Spring Start Up and Winterization Instructions for Krupske Sprinkler Systems installed in 2011 or after
Spring Start Up Instructions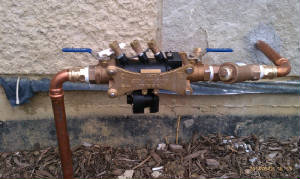 RPZ valve correctly installed. Notice test ports are on top.
Step 1 Reinstall the RPZ valve outside and open the valves that were left at 45 degrees.
Step 2 Close the drains that were opened for winter.
Step 3 Turn the main water valve on.
Step 4 Check each zone and make sure all the sprinkler heads are spraying correctly.
Step 5 Call us for the annual RPZ certification as required by law.
Winterization Instructions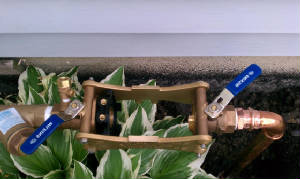 Winterized - Notice the Handles at a 45 Degree Angle